The Feast of the Transfiguration of Christ (Last Post)
Since my birthday falls on Aug 6, the Feast of the Transfiguration, I would like to post a little reflection on that event. This will probably be my last post, since I am starting a new job on Monday and blogging might be a distraction from more important responsibilities.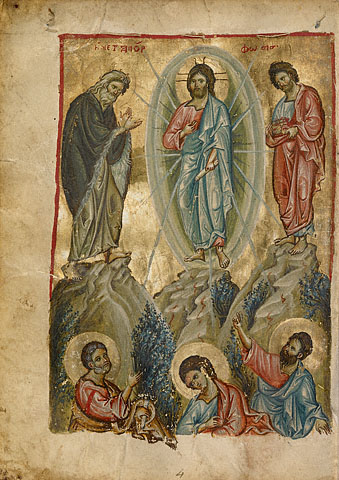 "And after six days Jesus taketh unto him Peter and James, and John his brother, and bringeth them up into a high mountain apart: And he was transfigured before them. And his face did shine as the sun: and his garments became white as snow. And behold there appeared to them Moses and Elias talking with him. And Peter answering, said to Jesus: Lord, it is good for us to be here: if thou wilt, let us make here three tabernacles, one for thee, and one for Moses, and one for Elias. And as he was yet speaking, behold a bright cloud overshadowed them. And lo, a voice out of the cloud, saying: This is my beloved Son, in whom I am well pleased: hear ye him.
And the disciples hearing, fell upon their face, and were very much afraid. And Jesus came and touched them: and said to them, Arise, and fear not. And they lifting up their eyes saw no one but only Jesus. And as they came down from the mountain, Jesus charged them, saying: Tell the vision to no man, till the Son of man be risen from the dead. And his disciples asked him, saying: Why then do the scribes say that Elias must come first?
But he answering, said to them: Elias indeed shall come, and restore all things. But I say to you, that Elias is already come, and they knew him not, but have done unto him whatsoever they had a mind. So also the Son of man shall suffer from them. Then the disciples understood, that he had spoken to them of John the Baptist." Matt 17:1-13
According to the Catholic Encyclopedia, the feast day probably originated in Asia during the 4th and 5th century. It has long been an important feast in the eastern Church, but the Latin Church also adopted it over time. In 1456, Pope Callixtus III made it a universal feast in honor of the victory won at the Battle of Belgrade. The victory was of great importance, protecting Christendom from Turkish invasions. It is also notable that St. John Capistran was present, leading the left wing of the Christian army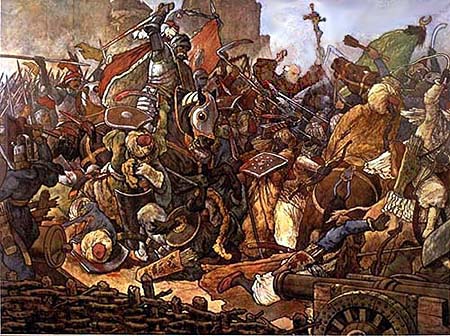 The Transfiguration occured shortly before the Hebrew Feast of Tabernacles, which seems to have been a rememberance of the Flight From Egypt and a foreshadowing of the coming of the Kingdom of Heaven. It occured after harvest time when the grapes had all been crushed for wine. For that reason, priests celebrating Mass on this feast customarily use new wine or whole grapes during the consecration.
Here are a few insights from various homilies on the subject.
Origin points out the symbolism of the six days, representative of earthly things "since in six days - the perfect number - the whole world, - this perfect work of art, - was made." When the three Apostles journey up the mountain after six days, they leave behind temporal affairs contemplating the eternal. He advises anyone who "wishes to be taken by Jesus, and held up by Him into the high mountain, and be deemed worthy of beholding His transfiguration apart, let him pass beyond the six days."
St. John Chrysostom points out that Christ brought only Peter, James and John for a reason: "Because they were superior to the rest. And Peter indeed showed his superiority by exceedingly loving Him; but John by being exceeding loved of Him; and James again by his answer which he answered with his brother, saying, 'We are able to drink the cup;' nor yet by his answer only, but also by his works." He also lists five reasons why Moses and Elias appeared. Their relationship with Christ proves: that He is more than a prophet, since He alone is named as beloved of the Father; that He does not transgress the law, for the giver of the Law - Moses - converses with Him; and that He does not blaspheme by calling Himself God, for Elias "was jealous for the glory of God." Their presence also reveals that He has power over life and death. Finally, both those prophets suffered for the Lord, and now they live in blessedness. This is an especially important lesson for Peter, who exclaimed "Lord, be it far from thee, this shall not be unto thee" when Christ foretold the Passion. (Mt 16:22) Through Moses and Elias, Christ teaches him "the glory of the Cross."
When the prophets appear, however, Peter does not immediately take the hint. He says, "It is good for us to be here," as if he desired to remain on the mountain. According to the Golden-Tongued Doctor, "he would have Him be there continually: wherefore also he speaks of 'tabernacles.'" Pope St. Leo also notes this, saying that "Peter, therefore, being excited by the revelation of these mysteries, despising things mundane and scorning things earthly, was seized with a sort of frenzied craving for the things eternal, and being filled with rapture at the whole vision, desired to make his abode with Jesus in the place where he had been blessed with the manifestation of His glory." However, that was not the Divine Plan. Christ brought the Apostles up to strengthen and encourage them, that they might endure His Passion. By bringing them down from the mountain (contemplative life) after the vision of His glory, He revealed that "amidst the trials of this life we must ask for the power of endurance rather than the glory, because the joyousness of reigning cannot precede the times of suffering." (active life)
"O God, Who in the glorious Transfigration of Thine only-begotten Son didst confirm the mysteries of the faith by the witness of the fathers, and in the voice which came down from the shining cloud, didst wondrously foreshow the perfect adoption of sons: vouchsafe in Thy loving kindness, to make us coheirs with this King of glory, and to grant that we may be made partakers of that same glory. Through the same Christ our Lord." From the Collect for August 6
Sources
St. John Chrysostom, Homilies on the Gospel of St. Matthew
Origen, Commentary on the Gospel of Matthew